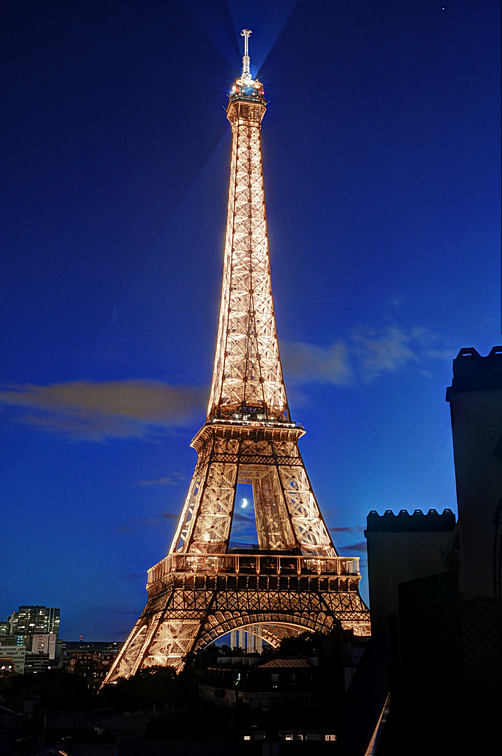 "Once beneath the stars, the Universe was ours.
I wonder if you know,
I wonder if you still remember,
once upon a time in your wildest dreams."
Welcome to EiffelCam
EiffelCams are webcam / computer instruments capturing images of the world's most recognized structure, the Tour Eiffel in Paris, France. This site is a tribute to the genius and vision of Alexandre Gustave Eiffel.


The two cameras are located a distance of approximately 285 meters from the base of the Eiffel Tower. By comparison, the top of the tower is approximately 300 meters from its base. EiffelCam1 is a five-megapixel IP camera that sends streaming video as well as still images. EiffelCam2 is a one-megapixel IP camera that captures an image of the tower every few seconds, and additionally records the ambient temperature, barometric pressure, and relative humidity. EiffelCam imagery is available on the Internet from the following sources :
(1)

The EarthCam Network is featuring imagery from both EiffelCams at the EarthCam site. The wizards at EarthCam have created way cool live Flash displays of the Tower, and EiffelCam2 has pan/zoom controls and time-lapse animations. Be sure to click the "Hall of Fame" tab just above the thumbnail images to see the comments. Post your own.


(2)

Every ten minutes, EiffelCam1 sends a 1200x1920 pixel image to the most recent EiffelCam1 image server, and EiffelCam2 sends a 768x1024 pixel image to the most recent EiffelCam2 image server.

(3)

Webcams.travel and Google have enabled EiffelCam1 imagery within Google Earth. Simply click the Webcams.travel box in the Gallery layer, et voilà! Or, view EiffelCam1 in the map of Paris at the Webcams.Travel site in Google Earth.

(4)

An archive of EiffelCam1 images, from March 2011 is available via FTP at this link.

An archive of EiffelCam2 images, from January 2008 is available via FTP at this link.


Coming to La Ville-lumière? Want to wake up to this view of La Tour Eiffel? Stay in an elegant, top‑floor two‑bedroom apartment with two terraces offering commanding views of Paris. All the details are at A Paris Apartment Eiffel Tower View.